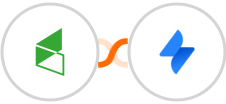 When you are running an online business, it is important to have a strong customer support system in place. So ,if your business uses Keap Max Classic to manage invoice, you can use Jira Service Desk to create ticket for each order.

In this way, you'll have a record of all the orders that have been placed, and you can track the progress of each one. Creating ticket for Keap Max Classic invoice is a great way to keep your business organized and ensure that no detail is missed.

Set up this integration so that Jira Service Desk starts working in tandem with Keap Max Classic.
See more