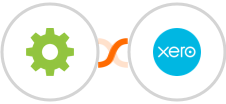 As soon as you receive a new ShipStation order, you need to generate a corresponding sales invoice so that you can get paid. With this ShipStation - Xero integration, a new sales invoice will be created in your Xero software automatically. This way, you can get paid faster and avoid having to manually create sales invoices for each new ShipStation order.

Plus, it saves you time by eliminating the need to manually create sales invoices. Set up the integration such that the sales invoice includes all the necessary details such as the order amount, customer information, and other relevant details.

By having this process automated, it will help you get paid faster and more efficiently. Additionally, it will help to keep your accounting records organized and up-to-date. Consequently, this will save you time and hassle in the long run.

So go ahead and activate this integration today to start streamlining your workflow and saving time on accounting. Thank us later!
See more