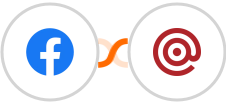 If you're running Facebook Lead Ads, you'll want to make sure that new member are created in Mailgun as well. This integration will help you do that. It watches for new lead in Facebook Lead Ads, and automatically creates them as new member in Mailgun.

This makes it easy to keep track of all of your leads and follow up with them accordingly. Thereby keeping your marketing efforts organized and streamlined.

It's a quick and easy process. Just click on activate and connect your Facebook Lead Ads and Mailgun accounts with Integrately.
See more