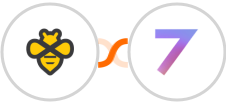 Beeminder provides a great tool for time tracking and so does 7todos for task management. But manually creating task can be messy and unorganized. That's why we've created this automation to make your workflow efficient!

When a goal is created in Beeminder, this integration will automatically create a corresponding task in 7todos. You can then link each task with the corresponding project to give you additional context.

This makes it easy to stay organized when managing tasks for different projects that are happening simultaneously.
See more