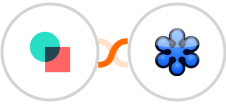 Webinars are a great way to connect with your audience and deliver valuable content. However, coordinating a webinar can be a lot of work. You have to create an invitation list, send out reminders, and keep track of who is attending.

Luckily, there's an easy way to automate the process. With involve.me - GoToWebinar integration, you can automatically create a GoToWebinar registrant list whenever someone submits a response in involve.me. This way, you can focus on delivering a great presentation without having to worry about the logistics.

So go ahead and give it a try - your next GoToWebinar webinar will be a breeze!
See more