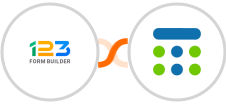 Any business that relies on online forms to collect customer data knows how important it is to have an efficient way to manage responses. Without a system in place, it can be all too easy for new responses to get lost in the shuffle. Integrately's 123FormBuilder - Teamup Calendar integration provides a simple solution by automatically creating Teamup Calendar events for each new 123FormBuilder submission submission.

This integration ensures that every submission is followed up in a timely manner, and no leads are left behind. In addition, this integration makes it easy to track which team member is responsible for each follow-up, making it easy to hold everyone accountable.

As a result, this 123FormBuilder - Teamup Calendar integration can help any business streamline its follow-up process and close more deals.
See more